When you buy a ticket through Ticketmaster, the price you see from the start will be the total price to be paid. You may notice that the price includes some fees that are added on top of the regular ticket price. Ticketmaster keeps none of the regular ticket price, but we take a fee that covers the costs of running of the ticketic service. We use this income to give you the best possible experience when you buy tickets and when entering the event.
Ticketmaster is a ticket provider, and not an organizer. We only sell tickets on behalf of organisers.
Each individual event can have different layouts, but you will get an overview of your order details when you get to the checkout, before payment. There will usually be one or more fees here.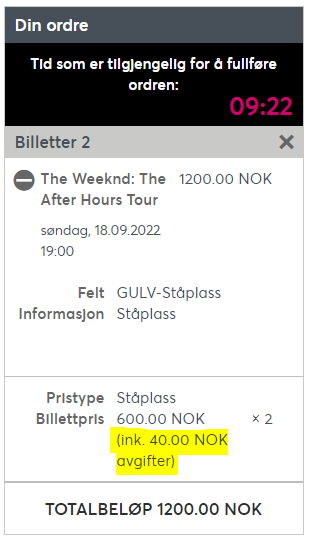 These fees cover the cost of processing your order from start to finish - this is the only income we generate from ticket sales.
Why are the fees different for the different events?
All the fees we charge are agreed in advance with the organizer. The service fee may vary depending on the event.

What do these fees cover?
The income from the fees covers, among other things:
Costs related to the operation of websites,
Customer center and customer service
Payment processes
Distribution of tickets in the form of the technological solutions for sending e-tickets and delivery fees for e.g. Collector Tickets.
Systems for scanning
Delivery fee
It is only possible to choose e-ticket as a delivery option when buying tickets. Naturally, we do not charge extra for the delivery of e-tickets.
Some events offer Collector Tickets. These are manufactured and shipped from England. There will therefore be an additional delivery fee. Read more about Collector Tickets here.

Information about our fees is also in the terms of purchase, which must be ticked before purchase.